Who wouldn't want an extra bling for their ring? Three-stone engagement rings are gaining popularity in the wedding industry—and it's not so hard to tell why.
The three-stone design features one primary diamond and two smaller stones on both sides. With added two stones, it gives you a vast array of options and combinations of diamond cuts and designs you can choose to make your ring stand out. Don't feel overwhelmed yet! Below are 10 three-stone engagement bands you can use for inspiration:
Three Round Stones in a Gold Setting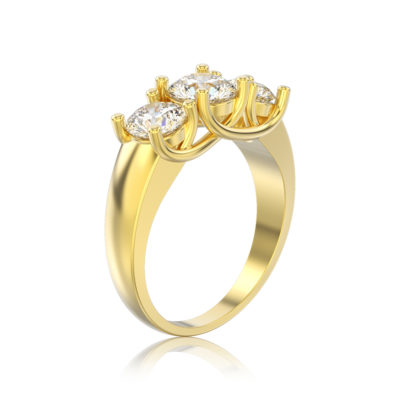 A classic yellow band with three round stones is a timeless engagement piece. Designed to stand the test of time, this stunning item of jewellery is adored by both traditional and modern future brides. If your partner loves elegance, choose a three-stone engagement ring with a thinner shank.
Three Stone Engagement Ring with Frame Prongs
You can confidently pop the question if you have this lovely gem in your hands. The picture frame prong highlights the centre diamond and shows off its stunning cut. The two smaller stones on its side also add value to your ring making it look like an extension of your centre stone.
For the halo lover, the three round diamonds shining brightly on the bed of paved stones are your best friend. It is surrounded by polished tiny gems and mounted on a split shank for a contemporary twist she won't be able to say no to.
Three-Stone Engagement Ring with Pear-Shaped Side Stones
Putting pear-shaped side stones will emphasize your main diamond. If she's into vintage, you can also add detailed engravings around the band or pave it with tiny stones. These accents add sparkle to your ring and drive the attention to your centre diamond.
Emerald Three-Stone Engagement Ring
If your significant other loves diamonds but is not a fan of glam, then this piece might be perfect for her. The elegant emerald cut nested on platinum prong is enough to make a bold statement. The two smaller emerald cut stones on its side also speak for themselves.
Three-Stone Engagement Ring with Pear-Shaped Sapphires
Imagine your woman staring at this piece every day, for the rest of your lives. This engagement piece can be a perfect option if you want to personalize your band with her birthstone. The pear-shaped velvety stones not only symbolize your girlfriend's personality but also sets the eye towards the main diamond. This is ideal if you want your centre to be the star of the show!
Brilliant Diamond in Platinum Setting
For your classic significant other, opt for a round brilliant diamond with two diamond baguettes on its side. The thin prongs that hold the stones together create an illusion that the centre stone is floating alongside the smaller gems. For added elegance, mount it on a platinum medium-sized band.
Ruby Antique Three-Stone Engagement Ring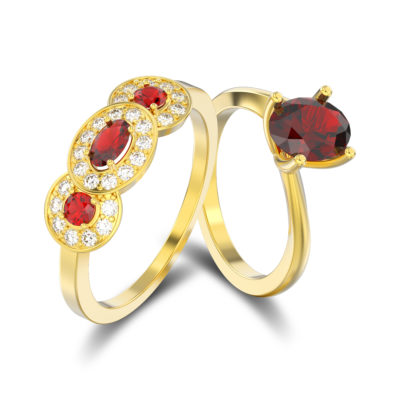 Rubies can also make an excellent supporting stone for your centre diamond. You can use it to complement your main diamond or cut it in a way that accentuates your centre. Either way, coloured gemstones offer qualities you're looking for in a diamond– incredible sparkle and durability minus the hefty price tag.
Three-Stone Engagement Ring with Pave Shank
If three stones are not enough to make her say yes, then a pave might do the trick. Adding pave using her favourite stones could make your ring even more special. Note that your choice of metal dictates which type of stone you'd want to use.
Customized Three-Stone Engagement Ring
There's nothing more memorable than saying yes to a ring made especially for you. Make your three-stone engagement ring even more special by customizing your band according to your girlfriend's preference. Whether she wants an emerald cut mounted on a paved shank or a classic three-stone engagement ring in a gold setting, you can always find ways how to make it your own.
Need Jewellery Advice?
Finding the perfect engagement ring can be an overwhelming journey. Turn to the experts in Monty Adams Jewellery Concierge and have your three-stone engagement ring customized based on your specifications.