You've been together for a while now, and you are starting to think,
Am I ready to settle down?
The answers could be different for everyone. Some of us only took a few months to find The One, while others took years for them to realize they have met their soulmate–and that's okay. If you are asking yourself whether or not you are ready to pop the question, read through the following signs below to get a much better idea of your situation.
You Talk About Your Finances
Talking about finances seems like a taboo topic. If you've reached the point where you are already comfortable discussing money matters, it could be a great sign. This level of openness allows you to determine the possible conflicts during your marriage.
You Reached a Specific Milestone
If you've just had completed a big project or you received a major promotion, maybe now is the time to up your personal life too. Hitting those milestones means you're getting closer to financial stability which means being able to provide for your new family.
You Discuss Your Plans with Your Partner
Ever discussed your dream house with your partner? Or perhaps the names of your future kids? If the mere thought of it scares and excites you at the same time, it could be a great sign you're ready to settle down.
Discussing future plans with your significant other could mean you are looking forward to spending the rest of your life with her. The important question is, do you both see yourselves moving in the same direction?
Your Partner is Dropping Hints
Is your partner dropping hints that she wants a diamond for her engagement ring? Or is she subtly telling you how great a beach wedding would look in pictures? If she does these not-so-subtle things and it does not freak you out, then the only thing you need to do is purchase a perfect engagement ring she can't stop talking about.
At Monty Adams Jewellery Concierge, we feature a wide selection of engagement rings that can be customised according to your future fiance's style. Whether she wants a rare
pink diamond
as a centre stone or a
Halo engagement
band mounted on a rose gold setting, you can count on us to create a ring that is exactly what you've envisioned.
You Know She Will Say YES!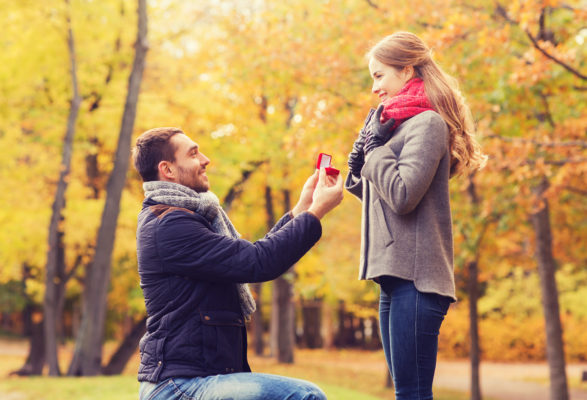 This may seem like a no-brainer, but if you feel the chance of your partner saying
yes!
to you is doubtful, it is best to postpone your planned proposal. But if you two have already discussed what kind of ring she'd want for your engagement or maybe she is clearly dropping hints without you having a mini heart attack, then the timing is perfect.
Pop the question when you know you are both on the same page about wanting to settle down, not just because she said so or you want to make things right with her. This impulsive decision could result to your partner rejecting your proposal–or worse, regretting your decision after. You want to hear her say yes without hesitation, so might as well do it when you are 100% sure of your intentions to her.
If you are planning on popping the question, you have probably thought of the ways to propose–and that romantic proposal always comes with a special ring that is unique and stunning as your beloved partner.
Ready to pop the question?
Still don't know which ring she'd love to say yes to? Don't worry–our jewellers from Monty Adams Jewellery Concierge will assist you in finding the perfect ring for the one. We try our best to make this journey as easy as possible, you still have plenty of time to plan the rest of your proposal. Check out these
diamond engagement rings
for some inspiration.