Planning to personalise your ring? Here are the best custom engagement rings for each month of the year.
January – Garnet
Garnet, the birthstone for January babies is the perfect gem for the first month of the year. Garnet can be found in a variety of colours: oranges, pinks, blues, purplish reds, pinkish oranges, greens and deep reds – with reds as the most common and greens the rarest of them.
You will never go wrong with garnet as the centre for your engagement ring as it goes well with any kind of metal. So if you are planning to propose in January, choose this gemstone that is as red as your passion.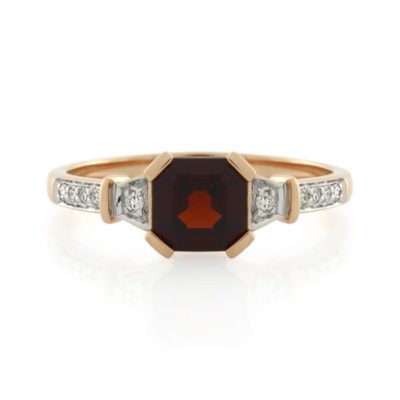 February – Amethyst
A magnificent variety of Quartz, Amethyst, is one of the most recognisable gems in the world with its luxurious looking purple hue – also ranging from light pinkish violet to deep red or blue-purple violet. The deep purple coloured Amethyst has been associated with royalty because the gemstone is a popular embellishment on monarch crowns and jewellery.
Make your beloved feel like a noble with Amethyst as her ring's centrepiece.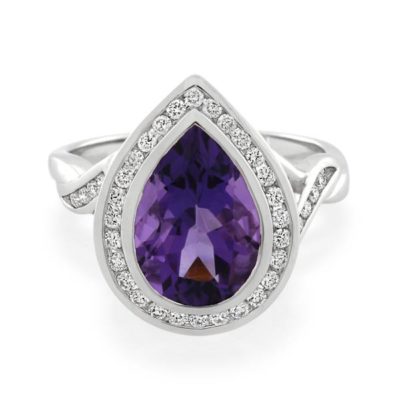 March – Aquamarine & Bloodstone
March celebrants have Aquamarine and Bloodstone as birth jewels. You can choose from two differently coloured, yet both amazingly beautiful stones for an engagement ring. Aquamarine is a gemstone that personifies its name, a vivid colour of the blue sea while Bloodstone is a dark-green stone marked with tiny visible red spots.
Aquamarine can be both in larger pieces and Bloodstone in smaller ones. The key to perfectly incorporate it into your woman's engagement band is to have a jeweller cut it into the best shape possible.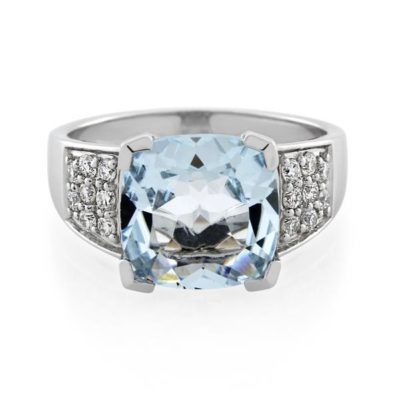 April – Diamond
Diamond is the birthstone for the month of April as well as the most popular gem used for engagement rings. Knowing the 4Cs is the key to buying and customising the best engagement ring. Remember to always check the diamond's clarity, cut, carat, and colour.
As diamond is the most common and popular gem piece for a ring, choosing for a ring style and setting would be easier.
18CT Yellow/White Gold 1.00ct Diamond Ladies Ring
May – Emerald
Try proposing to your beau with the Emerald stone in her ring's view. Emerald, the birthstone for the month of May exhibits a beautiful green colour wherein the more vivid it appears, the more expensive it becomes.
Emerald stones are not easily found, they belong to gems listed as rarest to found. Having it in your ring shows how much dedication you have to your beloved by finding one and having it personalised for her. Emeralds may come with inclusions, but does not necessarily affects its rating grades.
June – Pearl & Alexandrite
Pearls and Alexandrite are two choices you have for the month of June, the first one is popular and widely found, the latter is rare and hard to find. Pearls are often seen in various pieces of jewellery but not usually used in engagement rings.
For a timeless looking engagement ring, use pearl set in a gold band. For a unique and one-of-a-kind ring, a rare gemstone like Alexandrite is an excellent choice.
July – Ruby
Ruby, the gem of all gems, is the perfect piece for your July engagement ring. Ruby with its exquisite blood red colour is the superb embellishment to your ring.
This gemstone looks good together with both gold and silver. Customise it by selecting the most appropriate ring style and setting to fully display its captivating charm.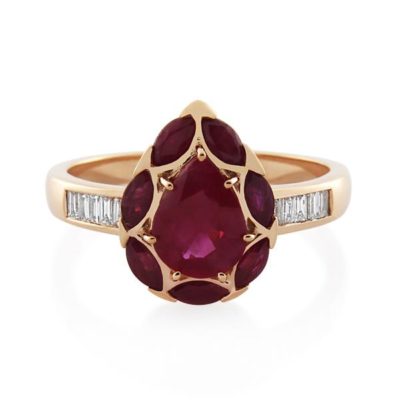 August – Peridot & Spinel
Both captivating to the eyes, Peridot and Spinel are gems both known for their particular colour. Peridot with its lime green shade is easy to the eyes. Spinel, on the other hand, is spotted because of its unique octahedral crystal structure.
September – Sapphire
Sapphire, displays a deep blue shade, a literal translation to its name blue stone. This gemstone has a measure 9 on the Mohs scale, next to diamond. It can withstand scratches and other damages making it the best fit as an engagement ring – one your girl can use for a long, long time.
October – Opal
Opal is your wonderful pal for the month of October. It is a gem that characterises and embodies the colour of other different stones. Be creative and unique as you use this beautiful piece to be the main star of your ring. Move away from plain ones and display a whole new world to your woman.
November – Topaz
Topaz for November. Topaz is available in a variety of colours but the most loved of them all is the one with an orange shade with little pink undertones. This jewel, when put in a ring, is bound to attract eyes with its bright and shiny colour.
December – Turquoise, Tanzanite, & Zircon
Celebrate and end the year with you asking your girlfriend to be your wife. Turquoise, Tanzanite, & Zircon, the birthstones for December, all have a deep shade blue colour. All of them are good choices for the engagement ring of your dreams. Pick one, have it cut, and ask your jeweller to assemble it according to your imagination.
Need help?
Monty Adams Jewellery Concierge offers a wide variety of gemstones of high quality. We will you choose the perfect gemstone that will match her personality and style. Make an appointment today.