Looking for a diamond ring but it seems costly? Save your money with these budget-friendly tips for shopping diamond rings.
You have set your mind on buying the perfect ring, the dilemma, however, is how much your budget is. We all know that getting a fine piece of jewellery especially a diamond ring is bound to be expensive so here are some tips for shopping diamond rings that your wallet will thank you for.
Play the Carat Trick
Out of the 4 Cs – cut, colour, clarity, and carat, carat is the one that is directly proportional to the price of a diamond. The higher the carat weight, the higher the value will be. Playing a trick on the carat weight will definitely save you a lot of money.
Instead of buying a whole digit carat weight diamond, try something shy of it (a 1.7 carat instead of 2, a .97 carat instead of 1). Nobody will notice the difference in size unless you tell them.
Decide on the Setting Wisely
There are various kinds of settings for diamond rings you can choose from, from channel to prong and bezel to gypsy to name a few. Pave diamond setting allow you to create an illusion of bigger centre stone by using multiple small stones lined up on the entire band. You can also choose a halo setting to create another image of a bigger centre diamond. Or you can choose not to get a centre gemstone but settle with tiny diamonds that will go around the whole band.
Read: 7 Different Types of Engagement Rings
Pick Eye-clean Diamonds
Choosing a diamond with a Slightly Included clarity grade can help you cut-back on your expenses. An SI quality diamond can be eye-clean (no blemishes, pits, or inclusions can be seen even when looking 6-10 inches from the face) to a normal person. This means that nobody else, except for the trained eye, can tell whether your diamond has imperfections or not.
Go For White Gold
Platinum and gold are two of the most popular metals chosen for an engagement ring and wedding bands. Even though they are both favourites, platinum is a metal rarer than gold which makes it pricier. Going for white gold as a platinum alternative can cost you less without sacrificing quality.
Bring Your Girlfriend
If you are an open-minded couple that discusses everything, a possibility is your girlfriend doesn't need grand surprises. You can consult your girlfriend or bring her with you when choosing a diamond ring. This will make it easier for you to choose since you can both look around and make sure that she will love the design and style you will buy.
Customise the Bling
Contrary to popular belief, having a ring customised might actually cost you less than buying a ring in-store. When you customise a ring, your jeweller can offer you options on how to achieve the perfect sparkler based on your ideas, designs, preferences, and most especially your working budget. Custom-making a ring also ensures that the final product is an excellent fit for your bride-to-be, created unique and special just for her.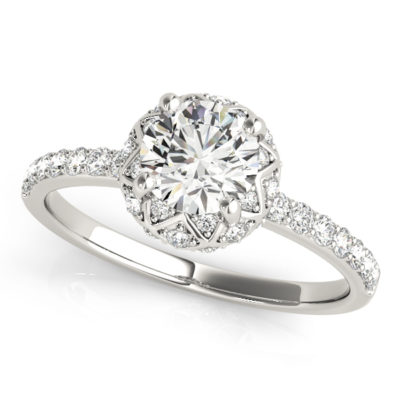 Are you budget conscious?
No matter how big or small your budget is, purchasing a diamond ring or any other piece of fine jewellery from a trustworthy jeweller is a must. Monty Adams Jewellery Concierge has professional and experienced jewellers ready to meet your every demand. Book your consultation today.