Looking for a ring that will set you apart? Clean, modern, and a design that you don't see very often in celebrity engagement proposals, a double band ring is something you may want to consider if you're looking for a unique setting.
What Is a Double Band Ring?
A double band ring, as the name suggests, is a ring with two bands instead of one. The bands may look like two separate rings, but in reality, they are connected at the bottom part and is still considered one ring. It comes in different types: others will have double bands only in front of the ring while others may go halfway, or all the way to the bottom.
Double band rings work beautifully with any diamond shape – princess, marquise, cushion, emerald, pear-shaped, oval, round, square, and more – and can come in different shades of gold or platinum band material. It can highlight the main centre gemstone or have none at all.
This style offers variations which include curved rings, twisted rings, or Tiffany like rings. Though not the usual pick for engagement or wedding rings, the double band style still garners attention. It's the perfect choice for those who love shinier and more unique jewellery pieces.
Looking for inspirations? Check out these designs below.
Marquise Halo Split Shank Engagement Ring
A solitaire style engagement ring that features the marquise cut highlighted by the halo around the centre ring and made more prominent by the split shank lined with multiple smaller diamonds.
Double Band Flower Engagement Ring
This ring features a double band that from top to bottom, wherein the top part is comprised of multiple diamonds in a jacket without a centre stone. It displays a unique design – a flower in full bloom – which makes it appear bigger.
Stone Double Band Ring
This double band ring features five small diamonds as the centrepiece set in place via open galleries of shared prongs. The shank is covered in multiple smaller diamonds in channel setting. It looks simple yet sophisticated.
Prong Round Cut Double Band Ring
This split shank ring has a wider opening with a round cut diamond in the middle. The centrepiece is held in place by four prongs connected to the shank. What adds to the beauty of this ring is how diamond melee on both shanks set in a delicate French V-split.
Princess Cut Diamond Split Shank Ring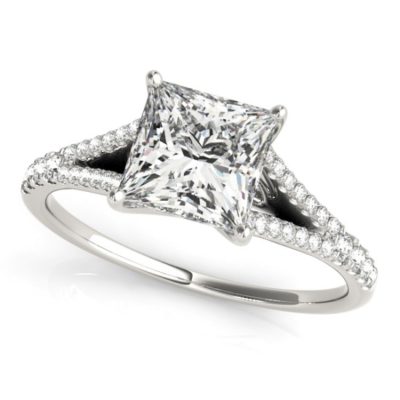 A split shank ring featuring the princess cut – one of the most popular diamond cuts. The main gemstone is secured by a four prong setting while the shanks on both sides are designed with diamond melee in delicate French V split.
Sun-Shaped Double Band Diamond Ring
Like the sun that shines brightly, this ring brilliantly glows with its uncomplicated yet elegant design. The band of diamonds is held beautifully in place by multiple buttercup heads.
Queen's Crown Split Shank Ring
This double band ring is one of the most simple yet appealing. It has a straightforward style with the diamond melee inserts on both sides. The split shanks are shaped like 2 inverted crowns that add to its unique appeal.
Is your ladylove not a fan of wearing too many rings? No problem because these double band rings can serve as both engagement and diamond ring.
To help you decide on what to choose here is a guide to finding the best engagement rings.
Looking for a stunning double band engagement ring?
We can customise a beautiful double band diamond engagement ring. Monty Adams is an award-winning jeweller based in Sydney. We are a mobile jewellery studio who can meet you in the comfort of your own home. Make an appointment today.