Make your partner's engagement ring extra special. Learn how with our engagement ring engraving ideas.
Engraving a message is the fastest and easiest way you can personalise your engagement ring. Proposing with a ring is already momentous, but to carve a special word on it to express your feelings – one she can feel on her skin – makes it all the more sentimental and unique.
Here are some things you have to keep in mind if you're planning to personalise your engagement rings.
The Ring
Though engraving something on the ring is easier than most customisations, there are kinds of metals that make hand engraving a bit more complex. The size of the band is also a determining factor for the possibility of engraving. Consult your jeweller if the engagement ring of your choice is wide enough and durable enough.
Time
Depending on the complexity and the current availability of your jeweller, engraving may take hours or weeks. Consult your jeweller for the time frame so you can plan ahead.
Cost
Engagement ring engraving is not as costly as customising the entire ring. Even so, you have to take into consideration how much the carving can cost. Fees may vary from jewellery stores and prices may be based on the type of inscription, font, length, style, or mode of engraving – whether by hand or machine.
Now that the time and costs are settled, the next step is to carefully and thoughtfully choose the words the jeweller will carve on your rings.
Here are some ideas you can draw inspiration from: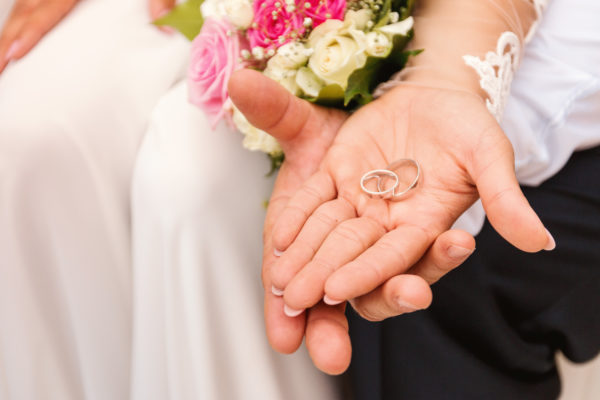 Names
You may choose to be simple and write your names or initials inside the rings. It is a plain and straightforward choice but will never be outdated. You may also write your special nickname for each other. It would be like an intimate secret that only the two of you know.
Special Dates
What better way to remember a special occasion than carving it inside your partner's engagement ring? It can be a birthday, the day you first met, your first kiss, the day you became a couple, your engagement date, or any occasion memorable for you both that you'd want to be reminded of years from now.
Words of Promise
Deciding to put a ring on your woman's finger is already a sign of your promise to love her forever. Take it up a notch by using these words to etch on the ring:
"I will always love you"
"I am always with you"
"I will love you now 'til the end"
"I will love you for eternity"
Sweet, Cheesy, and Romantic Statements
Being in love gives you license to be cheesy and romantic. Show your love in words by engraving one of the following phrases to your engagement ring.
Always and Forever
You have my heart
Love you Always
Yours Always
Worth the Wait
Always and Forever
Yours Forever
My True Love
Meant to be
To Infinity and Beyond
Together Forever
Forever with Love
From This Day Forward
To Have and To Hold
Love, Honor, Cherish
My Beloved
My Love
Endless Love
True Love Waits
My heart is in your hands
Mon amour (My love, French)
Amore mio (My love, Italian)
Love in Different Languages
There is more than one way to show your love to your beau. Try expressing it in a different language.
I Love You
Ti amo
Je t'aime
Ich liebe Dich
Wo ai ni
Aishiteru
Saranghae
Se agapo
Mahal Kita
Humorous Inscriptions
If you are one witty guy, you can take out the extreme seriousness of the situation by putting humorous and funny words and phrase to the ring. Here are some examples you can choose from:
No return, no exchange
Put It Back On
You're mine
XOXO (Hugs and Kisses)
No escape
Prisoner of love
One Word
If space for the inscription is limited, you may opt to choose one-liner that may be short in but has are powerful and full of meaning.
Love
Infinity
Always
Eternally
Eternity
Forever
Did you get some ideas on what to put on your engagement ring? Remember that the most important part of choosing is to think what your beloved would love.
For more tips on personalised engagement rings, read our Men's Quick Guide on Custom Engagement Rings.
Do you have questions on engraving?
Monty Adams Jeweller is your private Sydney jeweller who specialises in exquisite custom-made engagement rings. Make an appointment today and consult our certified jewellers for free.