While most wedding and engagement rings have crystal clear diamonds as the centrepiece, there's something extraordinary about a pink diamond set beautifully on a band.
Whether you are looking for a perfect ring for your loved one or looking for a stunning addition to your already gorgeous jewellery collection, you will find something that suits your style below.
Pink Diamond Halo Ring
Exuding sophistication and elegance, a pink diamond halo ring is a perfect piece for those celebrating a milestone of love and commitment. Surprise your significant other with a dainty ring decorated with intricate accents of gemstones and diamond.
Radiant cut is also a great engagement option. Your future bride will surely love the fancy pink centre diamond surrounded by a halo paved with clear diamonds. If she's drawn to extravagance, you can also upgrade your ring with a double halo for added dazzle minus the hefty price tag.
Mount your stunning halo on your choice of metal. At Monty Adams Jewellery Concierge, we feature a wide selection of precious metals for you to choose from–from classic 18K gold to modern platinum band settings, we can help you.
Purplish pink diamond Ring
If you are trying to save money on a pink diamond, you can also opt for a pink-purplish tone one. pink diamonds with a hue of purple can be as stunningly beautiful and as valuable as a pure pink diamond. Make sure to complement this fancy centre with tones that make its color pop.
Take advantage of the beauty of your purplish pink diamond with the help of our designers from Monty Adams Jewellery Concierge. We can help you choose your ideal style, be it in a gold or platinum setting.
pink diamond Round Brilliant Three Stone Dress Ring
Featuring two additional stones on each side, the three-stone dress ring is a great choice to add focus on your centre diamond. The three stones symbolize strength, balance, and unity in the power of threes. This ring would be a great piece to wear on a special event or for everyday glam.
Pink Cushion Cut Diamond Ring
Cushion cut diamonds, also known as "old mine cuts" have been a popular choice for newly engaged women. In fact, more and more celebrities are seen sporting this classic style. Its elegant, "old" style is perfect for those looking for vintage-style setting. It is also ideal for platinum, gold, and rose gold settings and can be perfect for a contemporary setting too!
Value of Pink Diamonds
The value of pink diamonds depends on its colour. Unlike white diamonds which are valued on its lack of colour, pink diamonds, on the other hand, tend to become more valuable if they have a darker colour. For instance, an Argyle diamond with a deep colour would cost up to 20 times more than its colourless counterpart.
Evaluating Your Diamond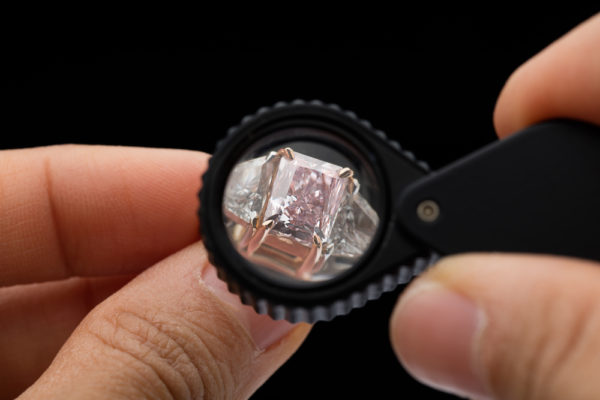 The value of a pink diamond is based on its size and colours. For instance, the larger the diamond is, the more expensive it gets. To evaluate its colour, a jeweller will consider three things: hue, saturation, and tone. Check out the following things you need to consider when purchasing a pink diamond.
Saturation
Saturation refers to the diamond's colour. The more intense the colour of the diamond is, the more expensive it is. For instance, if a diamond has a deep pink colour, it would be worth more than those with light colours. Diamonds with saturation that are almost close to red are the most valuable among others.
Tone
Tone refers to the lightness or darkness of a diamond's hue. The differences in tone are indicated by its tint and shade and can range from clear to black.
Hue
The dominant colour of the diamond is called hue. Common undertones for pink diamonds include purple, brown, and orange.
Looking for a stunning pink diamond ring?
Dazzle your significant other with a brilliant pink diamond ring made by Monty Adams Jewellery Concierge. By choosing a bespoke jewellery, you let yourself to customise your ring by picking every component of your band. Create your dream pink diamond ring now!