Working up the courage to propose to 'the one' is just half of the battle. Now, you need a ring.
For most men, purchasing your significant other's ring will be your first journey to the jewellery store. And on this journey, you'll be bombarded with unfamiliar terms you have never heard before. To help you, we have put together this complete guide on how to pick an engagement ring for her without the stress.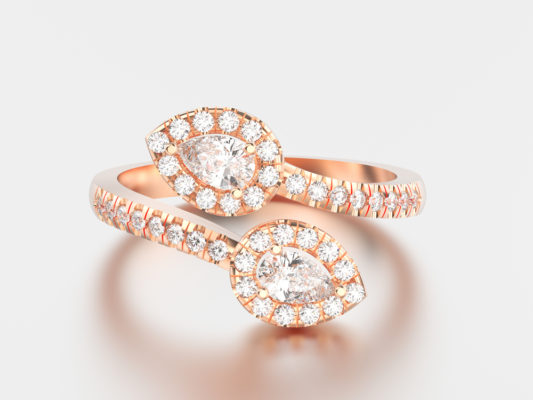 Browse Her Pinterest
Goal: Identify her overall style.
It is important that you pick a ring that she will love the moment she sees it and for the rest of her life. To find the perfect ring, you need to figure out her overall style.
If your significant other hasn't dropped any hint yet, it is high time to do your own research. The first thing you want to look at is her Pinterest account. Pinterest is a platform where you can handpick everything you like–from fashion inspirations, homemade recipes, to DIY tutorials–and "pinned" them on your boards. In fact, a lot of women are using their virtual board to subtly give hints to their partner about what kind of engagement ring they want.
While you're at it, check if your girlfriend pinned boards with the following categories:
Jewellery

Clothing

Celebrity Peg

Rings
Identify the common denominator of the things she pinned on her boards. This way, you'll be able to determine her overall style, including the type of the ring she would want.
Consider Her Personality
Goal: Determine the type of ring she wants.
You want to pick a ring that suits your girlfriend's personality. She is going to wear that ring every day and for the rest of your lives together, so it is important to choose the one that complements and reflects her style.
Does she wear a particular stone like her birthstone? Is she an outgoing woman who likes to show off her ring to anyone she meets? Pay attention to details. Here's a quick guide to help you:
If your girlfriend is feminine or graceful, you may opt for a ring with a delicate look and has intricate details.

If she likes vintage, consider purchasing a piece that has a nostalgic and vintage flair.

For a modern woman, look for a ring that has contemporary accents or a type of metal that is currently on trend.
Analyze Her Current Jewellery
Goal: Identify the specifications of the ring.
Your girlfriend's accessories will give you an idea of the style she prefers, the band size she typically wears, as well as the metal you should pick. For example, if your beloved one wears silver jewellery items, you can conclude she will likely choose a white gold or platinum for her engagement band.
Look into her cherished pieces and analyze how bold or simple she'd like her ring to be. Is she the type who likes to make a statement? Or does she like pieces with clean designs? If you're able to answer these two questions, it will be easier for you to narrow down your choices.
Get Her Ring Size Right
Goal: Get her ring size.
You don't want to mess up your proposal by picking a wrong, ill-fitting engagement ring. Enlist some help from your girlfriend's friends or family who are discreet enough to help you gather the remaining details you need: ring size.
First, talk to one of her closest friends about your plan and ask her to "borrow" some of your girlfriend's ring. Take this to your jeweller to be measured, and you are good to go.
Find a Trusted Jeweller
Goal: Find a craftsman who can build your dream ring
Now you have got everything you need to create your ideal ring, you only need one thing: your jeweller. Finding a trusted jeweller plays a significant role in this process. You have to choose a craftsman who understands your needs and will appreciate you even after you make this once-in-a-lifetime purchase.
Need help?
At Monty Adams Jewellery Concierge, we offer a comprehensive lifetime service plan for jewellery pieces created in our studio. Our goal is to offer services that go beyond your purchase. From polishing and cleaning to stone tightening, we can provide you with solutions that will make your engagement ring as brightly as the day you got it.