With no defined beginning or end, wedding rings signify eternity. A symbol of a union that is meant to last for ages. In today's blog post, let's talk about the basics of wedding rings and how to find the perfect pair for you and your future spouse.
While engagement rings are mulled over for months, wedding bands may come as only an afterthought. However, as a piece of jewellery that you will be wearing for the rest of your life, it pays to apply the same importance.
Start with the wedding rings basics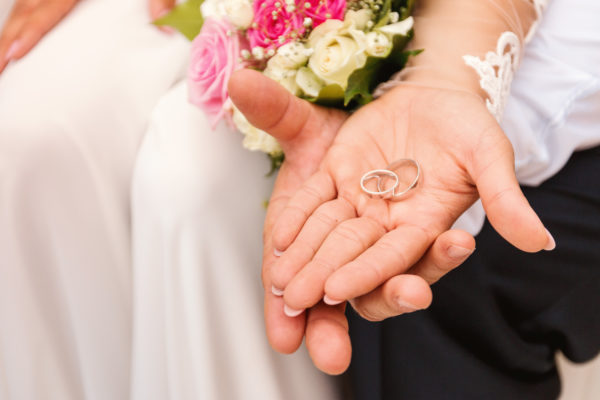 The sheer volume of choices can be quite overwhelming. Couples will find it easier to shop for their wedding bands if they start narrowing their search by deciding the basics.
But, how do you start?
Lucky for you, the process is so much simpler now. Take it one step at a time. Start with the style. Ask yourself:
Do you want a band with embellishments (e.g. diamonds, gemstones, special finish/texture)?
Do you want your wedding ring to be the same metal as your engagement ring?

Do you want a matching ring?
You don't have to figure out everything down to the smallest detail. But, asking these questions will give you more clarity and a more solid idea of what style will suit your preferences. So, when you start shopping, you have a better idea of what you're looking for.
Wedding rings for her
For women, the variety of styles can be overwhelming. The design range in setting style from prong to pave to a bezel. Eternity rings are also an option and they are not only perfect for gifts but also typically purchased as wedding rings.
If you decided to pair your band with your engagement ring, aim to match the style and metal as close as you can. If you know you love embellishments, you'll never go wrong with dainty diamonds. They look beautiful on every metal.
Many women prefer an extra sparkle, and some want to keep the focus on their engagement ring. Either way, there is no wrong way to design your wedding rings. Remember, your wedding band is a very personal choice.
Wedding rings for him
Men's wedding bands tend to be more subtle when it comes to details. They look simpler than those for women but believe it or not, your options are equally diverse.
For example, you can have diamonds embedded into the band, or go for a unique metal finish like brushed, hammered, or hand-braided.
The most important thing to remember is that you choose a style that matches your personality, yet also fits the lifestyle you lead.
Determining the quality of a wedding ring
When it comes to wedding rings, first you must accept the fact that you'll be wearing them for the rest of your life. This means that quality should be your utmost priority. There are three requirements you must tick off when shopping for wedding bands: the type of precious metal used, the stones, and the setting quality.
Usually, durable metals like yellow gold, white gold, platinum or Titanium and Zirconium are what wedding bands are made from. It pays to know what kind of metal is used in a wedding band.
Gold is a soft metal by itself that's why they mix it with alloys to hold its shape better. If you have an active lifestyle, platinum is one of the best choices. Always remember to go for a reputable vendor who provides verification of the precious metals used so you know exactly what you're getting.
As far as diamonds go, they'll be much smaller than a centre stone of an engagement ring. The problem with smaller diamonds is that if you were to certify 14 diamonds in a wedding ring, the certification costs nearly a thousand dollars alone. Therefore, it's always smart to buy from vetted jewellery vendors.
Getting the right size
Many people are guilty of rarely taking off their wedding bands. We wear them through summers, winters, exercise, and pregnancies. These conditions cause your fingers to swell and contract from heat, cold, water retention or weight gain. If you want to find the right size that will weather all the mentioned changes, schedule your final ring fitting at a time when your body temperature is normal and when you feel the most relaxed.
More specifically, you should avoid ring fitting first thing in the morning because your body tends to retain water from the night before, or after you've exercised when your fingers are swollen, or when you're extremely hot or cold because the temperature can cause your hands to expand or shrink.
Are you looking for the perfect pair?
Wedding rings are one of our specialties. At Monty Adams Jewellery Concierge, we help you find the perfect wedding bands to complement your budget, lifestyle, timeline, and aesthetics. We are an award-winning mobile jeweller in Sydney. Book an appointment today.