Your engagement ring is not your average trinket. In reality, you never want to take it off, and we totally understand! However, to make your special sparkler to look shiny and brand new for a very long time, there are certain occasions when taking off your engagement ring make sense.
To help you take good care of your engagement ring better, we enumerated five situations when to take off engagement ring to keep it in mint condition.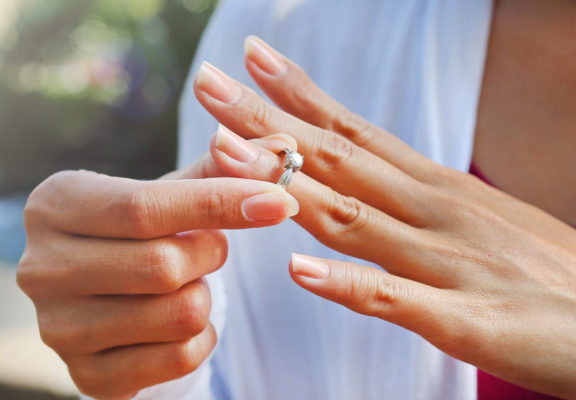 Working out
Platinum and gold are the most common metals used in making diamond jewellery. These metals are durable but only to a certain extent. If you ever wondered why there is no wearable jewellery made of purely 24k gold, that's because pure gold is soft. This is why gold is normally mixed with a second metal, also called 'alloy' like platinum.
When you perform activities that put pressure on your engagement ring (e.g. lifting weights), you risk changing its shape. When you risk changing the shape, you also risk bending the claws that hold your diamond, that may cause the diamond to fall out.
Exercise also extends to sports. If you play a certain kind of sport that involves hands-on physical activity (e.g. football, basketball, tennis), do yourself a solid and lock away your engagement ring at home.
Moisturizing
Moisturising is very important in skincare and you should do it daily. It's good for your skin, but not for your ring.
The excess build up of lotion, serums, body oils, and creams can diminish the brilliance of your diamond over time. To protect your sparkly diamond, wait a few minutes until your hand has fully absorbed your moisturizing product before you slip your ring back on.
Grooming
Cosmetics, hair sprays, perfumes, and other chemicals found in beauty products used in your daily routine could cause a buildup of grime that eventually weakens the natural sheen of your ring.
Before you start with your morning beauty routine, it's best to take off your ring and put it in a jewellery case in front of you. This is so you don't forget to wear it back after you're done with your hair and makeup.
Swimming
You probably know this, but your engagement ring should never ever touch the swimming pool. Most pools are treated with chlorine that dissipates germs and bacteria, but it can also discolour the mounting of your ring and your platinum, gold, or white-gold jewellery.
Cold water also shrinks your finders, making it much easier for an already loose ring to fall off during the swim.
How about the ocean? The same thing goes when swimming in the ocean. It's smart to take your engagement ring off before a swim to maintain its colour and integrity.
Cleaning
Common household cleaners like bleach and ammonia can discolour the setting of your ring. It can actually cause serious damage because cleaning agents are filled with strong chemicals that can wash away the shine of your engagement ring.
Not to mention, when you're cleaning tough surfaces, you can easily bang up your engagement ring on tough surfaces (e.g. bathroom counters, kitchen floors).
Cooking
Germs and bacteria can get easily get lodged into the inside of the band and the books and crannies of your engagement ring. You also risk of slipping off when you rinse anything in the sink. Better take it off when cooking.
Looking for expert jewellery cleaning?
At Monty Adams, we offer jewellery cleaning services that won't break the bank. We use the right tools to get your ring shiny and sparkly again. Make an appointment today.