Style Your Engagement Ring
Deciding on a style for your engagement ring can be a mammoth task, thanks to the endless number of options. But it does not have to be a scary or stressful experience.
From unique sapphire gems to the classic round brilliant cut, at Monty Adams you can create the engagement ring of your dreams with the guidance of our expert jewellery concierge team. To help you get started, here is a brief rundown of some of the terms you may come across in your search for the perfect engagement ring.
Choosing Diamond
For some, choosing a centre stone for their engagement ring can be a daunting process as there is a plethora of options to choose from. However, for others, they have had their hearts set on that perfectly crafted princess-cut diamond since they were 15 years old. To decide which centre piece to go for the first thing you will see when you start scouring the internet to find out everything you need to know about diamond, is the 4Cs (cut, colour, clarity, and carat). Now we are going to break this down for you in the simplest way. Figure out what is most important to you in your forever ring. Is it size? Is it the sparkle? Is it how clear and crisp the stone looks? Once you determine the most important factor to you, you can move on to the next steps.

Cut
Often confused for the shape of a diamond, the cut of a diamond is one of the first things you will have to decide on when picking a diamond for your engagement ring. The cut of a diamond refers to the not only the facets, dimensions, and symmetry of the diamond but also how it interacts with light.
The Gemological Institute of America (GIA) considers factors such as a diamond's brightness, fire, and scintillation to determine the best cut for it. The brightness refers to how much internal and external white light the diamond reflects, while its fire refers to how that white light strikes the diamond and disperses into all the rainbow colours. The amount of sparkle and light and dark patterns caused by the reflections in a diamond is referred to as scintillation.


Photo courtesy of GIA®
Based on these factors, diamond cuts are graded as excellent, very good, good, fair or poor.
Colour
Colourless diamonds are the most popular choice in engagement rings however coloured diamonds are just as stunning and growing in popularity. Some naturally occurring coloured diamonds are some of the world's rarest and therefore most valuable diamonds, for example pink diamond, Yellow diamonds are an extremely popular choice and can range from bright, vivid tones to subtle hues of the colour.


Clarity
How perfect is the diamond on your engagement ring? Clarity is just the measure that determines this by assessing the "blemishes" on the diamond. Each diamond is then assigned a clarity grade ranging from FL (flawless) to I3 with FL being the rarest and of the highest value and I3 being the lowest. When it comes to engagement rings, VVS and VS diamond grades are the most popular choices for many couples.


Carat
Once you have selected the cut, colour and clarity for your diamond, the decisive step is deciding on the carat of the diamond. Simply put, carat refers to the weight of the diamond. It is often mistaken as a measure of diamond size as carat can affect the size of the diamond. However, the size of your diamond is not just carat-dependent but is also influenced by its cut and clarity as well.
Lab-grown diamonds
Lab-grown diamonds are becoming increasingly popular for several reasons. Just as beautiful as natural diamonds these stones are formed in laboratories using machinery and systems that mimic the conditions in which natural diamonds occur.


Selecting Engagement Rings shapes
There are several different shapes you can get your diamond or gemstone crafted into. When selecting a diamond for your engagement ring, you may be presented with 10 or 12 different shapes to choose from. These shapes are further divided into two categories: round diamonds and fancy-shaped diamonds.


Round
Like the name says, Round Diamonds .have a circular shape. They are the most popular and have the most brilliance, making them the most expensive diamond shape. A Round Shaped Diamond is also referred to as a Round Brilliant Cut or Brilliant Cut and has 58 facets.
Fancy-Shaped
Any other shape that is not a round diamond is classified as a fancy-shaped diamond. Here is an introduction to the fancy-shaped diamonds that are available:
Princess
The princess-shaped shape diamond is the second most preferred diamond shape. It has a square cut but is also available in rectangular shapes. It contains 57-58 facets, which gives it a shine unlike any other.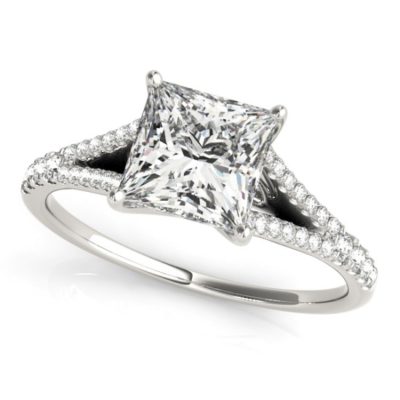 Emerald
Emerald-shaped diamonds feature a narrow rectangular shape with cropped corners and a total of 58 facets.
Oval
An oval-shaped diamond is like an elongated round cut. Because of its extended design, it appears bigger than a round-shaped diamond with the same carat. It has a total of 58 facets including the culet.
Cushion
The cushion-shaped diamond , also known as pillow-shaped diamonds, looks almost square with rounded corners and edges, and features 58 facets.
Radiant
A radiant shaped diamond looks like an emerald and a cushion combined featuring soft, cut corners. It has an elevated level of brilliance, thanks to its 70 facets.
Pear Shaped
The pear shaped diamond looks like a teardrop with a rounded face, consisting of 58 facets placed in a brilliant cut pattern.
Marquise
The marquise shaped diamond is elliptical-shaped with pointed top and bottom ends, featuring 57 facets. It is most used in vintage-style rings.
Asscher
The Asscher shaped diamond resembles a cross between the princess and emerald shaped diamonds, with a distinct X shape and cropped corners. It usually contains 58 facets, arranged in such a way that it almost give a "Hall of Mirrors" effect.
Heart
Like its name suggests, a heart shaped diamond resembles the shape of a heart. It contains 56-58 facets, which gives it an amazing brilliance.
Find Your Perfect Engagement Rings Style Bands
When selecting an engagement ring, you must decide on the metal for the band. Monty Adams provides 8 different metal options to choose from. Here is a rundown of your selections.
Gold Band
A classic, gold is often the most common choice when it comes to both wedding and engagement rings. 18CT gold is the common metal choice among our clients, and for good reason. It is made from 75% pure
gold with the remaining 25% from an alloy of other metals. This provides extra strength and controls the colour of the metal
When you choose gold as the metal for your engagement ring, you will further have 3 alluring colour choices to pick from: Yellow Gold, White Gold, or Rose Gold. These stunning colours are derived from the mix of other metals and alloys with pure gold.
We often recommend mixing metals for our clients for example having a white gold setting (the intricate metalwork that keeps the diamond/gemstone secure) with a yellow gold band. Having the white gold setting will ensure the diamond looks clear whereas a yellow or rose gold setting can cause some reflection in the stone creating an orange or pink hue.
Yellow Gold Band
Yellow gold is the only one that occurs naturally among all the gold colours. Yellow gold, apart from 24CT pieces, is an alloy of gold, silver, and copper. 24CT yellow gold is 100% pure gold, but due to its softness, it is not recommended for rings or other jewellery.
18CT Yellow Gold 0.50ct Diamond Ladies Ring
White Gold Band
White gold, along with other metals such as yellow gold and platinum, is one of the most popular choices for engagement rings. To achieve its radiant white colour, this gold alloy combines gold with nickel, silver, platinum, or palladium.
Rose Gold Band
Rose gold is distinguished by its soft pink hue. This colour is caused by the copper in this gold alloy.
Platinum Band
Platinum is another highly requested metal choice for engagement rings. It contains 5% pure platinum and only 5% of other alloys. This means it will retain its beautiful crisp colour, unlike rhodium-plated white gold which requires re-plating on a routine basis.
Tungsten Band
Tungsten is becoming an increasingly popular choice, particularly among men. Aside from being a more affordable option than gold or platinum, it is also the most scratch-resistant metal available. In fact, because it is virtually scratch-proof, you could say this extremely strong metal "lasts a lifetime." When choosing a tungsten band, you can go with its natural steel-grey tone or choose a white, gold, rose, or even black plating.
Cobalt Band
Cobalt, like tungsten, is another contemporary choice for engagement rings that is steadily gaining popularity. It has the same lustre, shine, and colour as rhodium-plated white gold, but it is far more durable. In terms of price, it costs more than titanium or tungsten but less than gold or platinum.
Titanium Band
Among the modern metal options for engagement rings, titanium is unquestionably the most popular. It has a striking silvery grey-white tone and is more comfortable to wear than most other metals due to its lightweight nature. But make no mistake about it. Despite its weight, titanium is extremely durable, making it ideal for commemorating your "for always and forever" moment.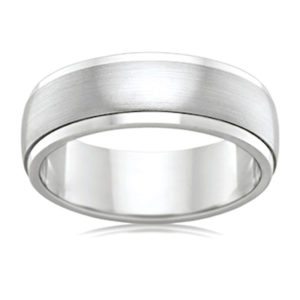 Engagement Ring Setting Style Chart

Engagement Rings Setting
Prong Setting
The prong setting is the most common setting style used in engagement rings. It has four to six pieces of metal, known as the prongs, that come up from the rings basket to secure the diamond or gemstone in place. This setting style also allows lighter to pass through the stone creating more sparkle.
Tiffany Setting
The Tiffany setting is technically a prong setting with an exclusive design. It is an iconic style in the engagement ring space featuring a round brilliant cut diamond with 6 prongs encasing the solitaire design.
Bezel Setting
A bezel setting is a unique setting used in engagement rings and comes from French origins. It is where the diamond or centre stone of choice is encased by a metal rim rather than the four or 6 prongs most seen in the engagement ring market.
Pavé Setting
The pave setting is an extremely popular setting style. This setting features a collection of small round diamonds that run along the band of the ring. It is the same setting that is used in infinity rings where the diamonds wrap around the entirety of the band.
Halo Setting
Halos are an immensely trendy style in engagement rings for those who love a bit more bling. It refers to a ring of round pave diamonds that circles around the centre stone.
Cathedral Setting
A cathedral setting refers to the style where the centre stone is held up by two arches. This vintage inspired/antique setting is made up of beautiful lines and unique features and can be used with a bezel or prong setting.
Bar
Bar settings are popular in the use of wedding rings and eternity bands. This term refers to the two vertical metal bars that secure the diamonds in place. This setting allows light to pass through stones enhancing their sparkle.
Cluster
Cluster settings are a unique style used in engagement rings. A cluster ring typically uses several smaller diamonds that are set closely together to look like a larger stone. These small diamonds can also be set to resemble unique shapes such as flowers or starbursts.
Infinity Setting
An infinity setting ring has a centre stone surrounded by two diamond-set bands that resemble the infinity symbol. Instead of diamonds, stones such as sapphire or amethyst can also be used for the setting.
The Monty Adams Purchase Process
When you purchase your dream engagement ring from Monty Adams, you will be appointed your very own personal jewellery concierge who will walk you through every step in the design process. They will meet you at a time and location of your choice to discuss every little detail of your forever ring, which will then be handcrafted by artisan jewellers just for you.
Assurance of Quality
At Monty Adams, we pride ourselves on producing quality bespoke engagement rings that are crafted to your every desire. All our pieces come with certification and a lifetime warranty so you can be well assured that your forever piece is of the best quality and legitimacy. The mobile nature of our business allows us to fit into your schedule to ensure you are receiving the best advice and guidance for the piece you will cherish for many years to come. Our mobile model also means we have a little overhead, allowing us to pass our savings onto you! So, what are you waiting for? Book your complimentary and obligation-free appointment today to start designing your next forever piece.