If there's one thing Hollywood gets right, it's their epic jewellery! While grand gestures and romantic proposals are to be expected in a silver screen romance, the real heroes are the creative minds working in costume and design behind the scenes.
All the iconic engagement rings featured below are more than just pretty pieces of jewellery. These rings are, in fact, a part of the story, and often play a starring (or at least co-starring) role in the movie themselves.
After all, when a handsome movie star proposes to our beloved heroine with an engagement ring as gorgeous as these, who could possibly say no?
*Spoiler alert! Some of these descriptions contain key plot points from the movies. You've been warned!*
Crazy Rich Asians
This movie is as much about loved up sweethearts, Nick and Rachel, as it is about the struggle between this young couple and Nick's mother, Eleanor. Michelle Yeoh was perfectly cast as the elegant and imperious Eleanor, but more than that, she was the very person who brought this iconic ring to the set in the first place! Yep, this flawless emerald ring is actually from Michelle Yeoh's personal collection. By the end of the movie, the ring signified more than just Nick and Rachel's love for each other, as it also symbolised Eleanor's approval and acceptance of their love.
Leap Year
Matthew Goode and Amy Adams star as Declan and Anna in this rom-com based on the Irish tradition of women proposing to their men on February 29 of a leap year. Through typical Hollywood mishaps and misunderstanding, it so happens that it is Declan who ends up proposing to Anna with a traditional Irish claddagh ring. The Claddagh ring symbolises love, loyalty, and friendship – the two hands represent friendship, the heart symbolises love, and the crown on top is a symbol of loyalty. Interestingly, this ring is worn in different ways based around whether you're single, in a relationship, engaged, or married!
High Society
Seeing as how Grace Kelly wasn't just Hollywood royalty, but real life royalty, it shouldn't surprise anyone that the incredible ring she wore in the movie High Society is from her own collection! As a matter of fact, this happens to be the very ring that Prince Rainier III of Monaco gave to her upon their engagement in 1955! This incredible ring features a 10.47 carat emerald cut diamond, flanked by two baguette diamonds, which are all set in platinum.
Great Gatsby
The 2013 remake of this movie features the ethereal Daisy, played by Carey Mulligan, wearing a beautiful ring with a large cushion cut diamond, that is surrounded by a halo of small diamonds, and a micropave band. Daisy also wears a matching wedding band, and is laden with a myriad of other rings, bracelets, and necklaces to complement her art deco style. The jewellery for this character perfectly reflects the trends of the roaring 20s!
Funny Girl
Barbra Streisand wears a number of beautiful vintage rings in the movie Funny Girl. The 1968 movie shows the life and career of real-life comedienne Fanny Brice, who was hugely famous in the early 1900s, and all the jewellery featured in the film were a reflection of the aesthetics of that era. As with quite a few fabulous leading ladies on our list, this ring happens to come from Barbra Streisand's personal jewellery collection. One thing's for sure – no one is raining on this girl's parade!
Legally Blonde 2
In the sequel to the hit movie Legally Blonde, Elle Woods – played by Oscar winner Reese Witherspoon – wears a very pink, and very shiny ring which features an oval-shaped pink diamond flanked by smaller diamond accents. The ring suited the character's overly feminine style really well, which is a credit to both jewellery designer Harry Winston and the star of the movie herself, who helped design the special custom piece.
Sex and The City 2
After a decades-long (on and off) romance, Carrie Bradshaw – played by the inimitable Sarah Jessica Parker – is finally settled down and married to her Mr.Big. Unfortunately, she's starting to feel a little too settled down. The movie sees Carrie going on an adventure with her girlfriends to quell her restless mind, and after an encounter with an ex that puts her marriage on the line, she comes home to a gift of a gorgeous black diamond ring – an incredibly rare stone – which also features a diamond halo and diamond band.
The Notebook
Known as one of the best romance movies of all time, Ryan Gosling sets all our hearts a-flutter as handsome hero Noah Calhoun who is desperately trying to woo rich girl Allie – played by Rachel McAdams. When they do finally get engaged, Noah gifts his girl with a gorgeous emerald-cut diamond ring flanked with banquette stones. The beautiful ring is featured during the award-winning kissing scene, and also during one of the most heart-wrenching ending scenes in cinema (we simply cannot stop the tears from streaming down our faces during this point of the movie!).
Titanic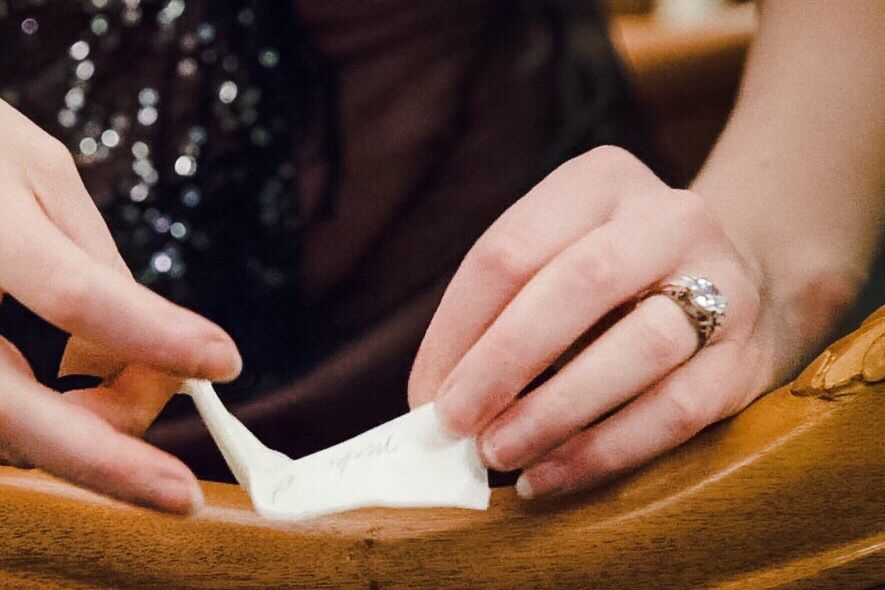 We couldn't write a whole post about romantic films without mentioning Titanic! While Rose's stunning Heart Of The Ocean necklace is undoubtedly the most memorable piece of jewellery from the film, her engagement ring is more than worthy of a mention. The ring features one large faceted faux diamond flanked by two graduated baguette style faux diamonds on either side. The stones are set in a vaulted and tiered, deco style, silver setting. While the ring is featured heavily throughout the movie, it is highlighted especially during the scene where Jack stops Rose from jumping into the ocean and admires the ring when they meet the next day. We can't exactly blame him for gawking – it's a pretty impressive ring!
Beyond The Silver Screen
Whether in movies or in real life, agreeing to marry someone is one of the greatest acts of true love. That's why these incredible rings have become so memorable in their own right – they not only suit the person they're meant for, but they also symbolise the deep and meaningful connection between two people.
Have any of these iconic engagement rings caught your eye? Get in touch with us to learn how we can help you celebrate your own Hollywood-worthy romance with an engagement ring made from the finest diamonds. We could even help you design your own!